GI-Literatur

Auf diesen Seiten finden Sie interessante Literatur rund um die Geoinformatik.
Wählen Sie ein Themengebiet aus:
Spatial Interaction Modelling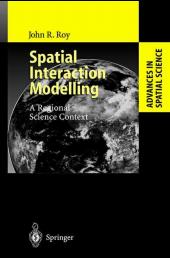 A Regional Science Context
Roy, J. R.

1. Auflage.
Berlin: Springer, 2004.


ISBN: 3540205284

In this book, the author's strong commitment to the multi-disciplinary field of regional science emerges to provide a unifying framework between spatial modelling traditions from quantitative geography and those from spatial economics, whereby each is enhanced. Starting with a detailed discussion of each field illustrated with numerical examples, the two traditions are brought together by either making the economic models probabilistic or transforming the objectives of the geographic models to reflect both utility theory and production theory. The ideas are applied to develop urban models of activity analysis, face-to-face contacts and housing supply, as well as regional models in the areas of input-output analysis, imperfect competition and interregional migration.