GI-Literatur

Auf diesen Seiten finden Sie interessante Literatur rund um die Geoinformatik.
Wählen Sie ein Themengebiet aus:
Fundamentals of Geographical Information Systems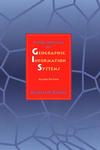 Demers, M.

2nd Edition.
London: John Wiley & Sons. Inc, 2002.

656 Seiten
ISBN: 0-471-42609-1
unverbindl. Preis: 92,95 USD

Covering both design and modelling, this text reflects the author's belief that modelling and analysis are at the heart of GIS. The addition of over 35 new graphics presents concepts simply without extraneous material. Sections on scanning and measuring linear distance have been updated. End of chapter questions test students knowledge of key concepts. Web page provides additional learning material for students and data sources and other teaching materials for students and data sources and teaching materials for instructions.