Geographical Information Systems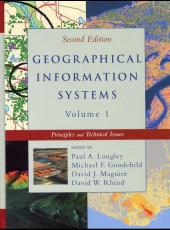 Principles, Techniques, Applications & Management
Longley, P.A., Goodchild, M.F., Maguire, D.J., Rhind, D.W.

2 Volumes, 2nd edition.
London: John Wiley & Sons. Inc, 1999.

1296 Seiten
ISBN: 0471 32182 6
unverbindl. Preis: 400 USD

Provides an unrivalled, single comprehensive source of information on principles, techniques, management and applications of GIS. An invaluable reference for professionals in a wide range of fields that use GIS, including natural resources, architecture/construction, civil and environmental engineering and environmental science.